Heating and cooling with the AvidoTherm feel-good climate
for industry, commerce and public buildings
The AvidoTherm feel-good climate system is based on the principle of panel heating. However, it represents a generation change in the technology of this surface temperature control.
With the development of parallel pipe routing, we have managed to significantly reduce energy costs for you. Thanks to automated production techniques, we are also able to realise this with fair purchase costs.
You can find out how our heating system or, more precisely, our temperature control system works in detail in the respective application.
Important for you: We at AvidoTherm-Wohlfühl-Klima are so convinced of our technology that we give you a 50-year guarantee on our elements!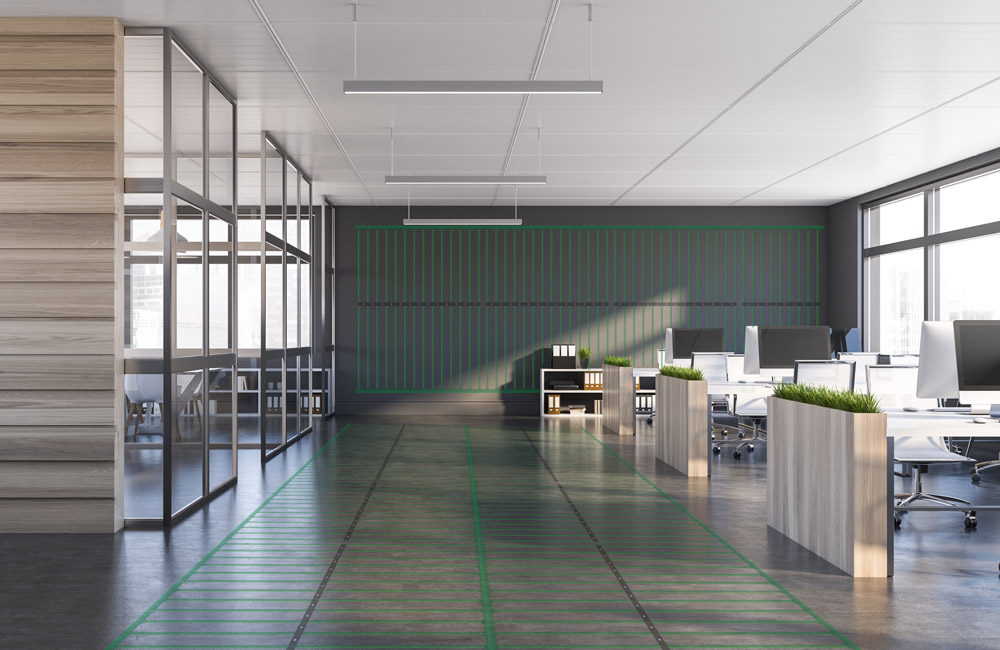 ---
The best feel-good climate – whether in industry or public buildings
Hall heating
With AvidoTherm, healthy heat or cooling within minutes at low energy costs.
Workshop heating
Heating a workshop seems impossible. Not for AvidoTherm. At high speed to a pleasant temperature.
Heating for public buildings
Whether schools, museums or offices. Spreading heat via radiation with AvidoTherm.
Greenhouse heating
No more frost in winter. Exhaust-free heat for your plants with AvidoTherm.
---
Your advantages with the AvidoTherm system
Work quickly & without braking
The system takes effect within minutes and delivers warmth or cool freshness. Once up to temperature, it cannot be slowed down even by open gates, etc. Your employees can work undisturbed at any time.
Healthy and emission-free
For many people, dust or air-conditioning systems represent an unpleasant health burden. The AvidoTherm system does not stir up dust when heating and prevents unpleasantly dry "air conditioning air" when cooling.
Low purchase and energy costs
The AvidoTherm system costs no more than installing conventional heating systems. However, it works much more effectively and saves energy.
Space-saving & invisible
As our system is installed directly into the floor, wall and ceiling, it requires hardly any space and is practically invisible. You and your employees will only feel it comfortably and be able to work in it liberated.
20 years warranty
Die guten Erfahrungen aus vielen Jahren haben gezeigt, dass die AvidoTherm-Elemente verlässlich sind. This enables us to offer you a 20-year guarantee.
Can be installed on any wall & any floor.
In drywall, in plaster, directly in the concrete layer or on curved surfaces – the AvidoTherm system is so versatile that it fits in everywhere.
---
Are you interested? Contact us without obligation!
—